December: Winter Peonies
December 01, 2021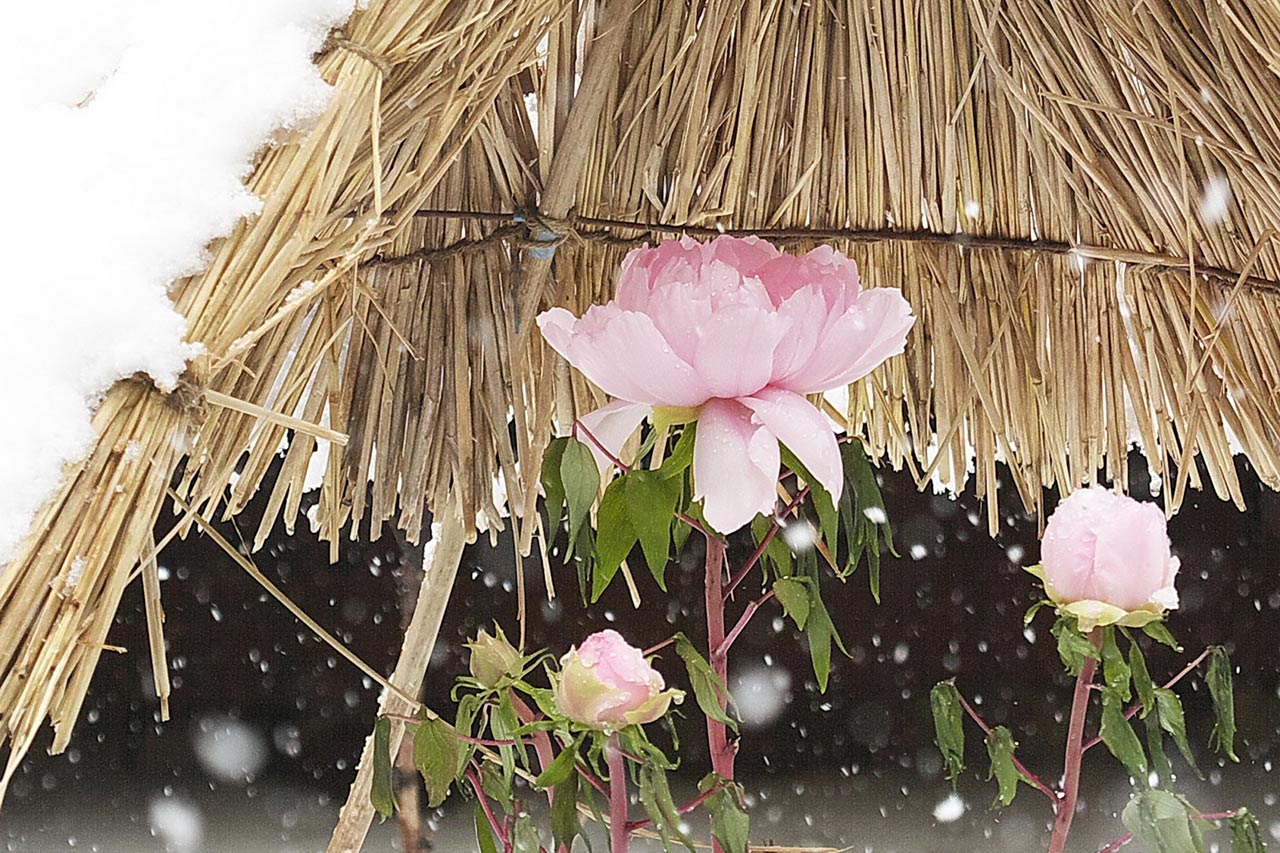 Naturally flowering in spring, peonies are a classic Japanese flower, but the unusual winter varieties are a rare and beautiful sight. Including varieties like the Kan-botan (meaning cold peony) or Fuyu-botan, (meaning winter-peony), they are artificially cultivated to blossom in the colder months with a great amount of care and dedication. Seeing bright pink petals against fresh white snow is a worthwhile reward for both those who grow them and those who seek them out. Their strong spirit and winter survival has brought them associations of good luck, tying in with good wishes for the new year.
Peonies were originally brought to Japan from China in the eighth century and grew in popularity as a spring flower. It wasn't until the Edo period (1603–1868), however, that the flowers were cultivated to blossom in winter. Requiring a careful schedule of pruning and nipping of buds, the process created delicate varieties with only a 20% flowering rate.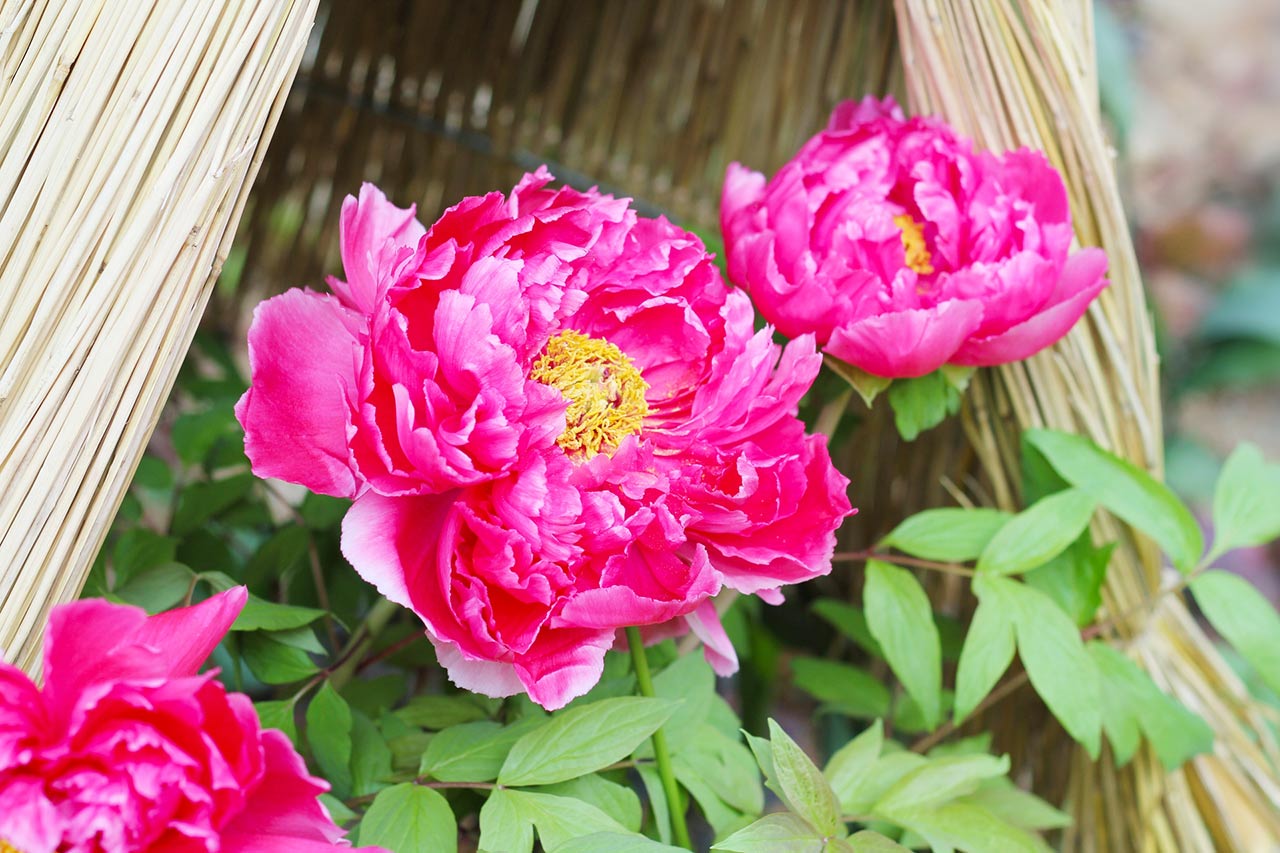 Kan-botan naturally bloom in spring and autumn, but are trained to delay blooming until late October to January while Fuyu-botan naturally bloom in spring but are made to grow faster in greenhouses. An easy way to spot the difference is to look at the leaves: a Kan-botan will be mostly bare while a Fuyu-botan will have many green leaves. To protect the plants from frost and snow, small straw covers are made to shelter them, creating an unusual and beautiful scene. Decorative knots are used to secure the straw with rope, creating shelters reminiscent of Japanese shrines.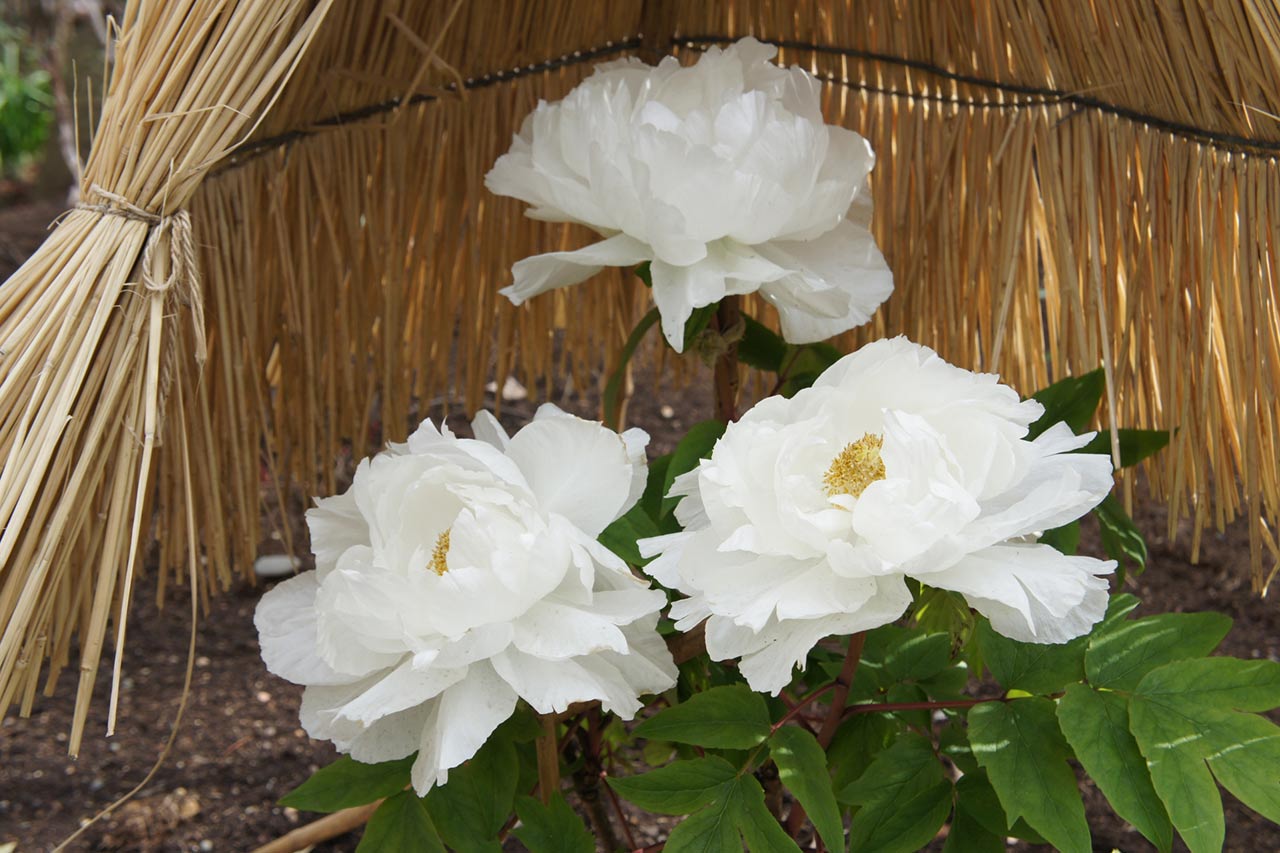 Due to the level of commitment and the low success rate, they are only attempted by the most dedicated of gardeners, with only a handful of gardens displaying them in Japan. Sekko-ji Temple in Nara is one of the most popular destinations and is nicknamed 'peony temple.' Of over 400 varieties, the temple has 40 varieties of Kan-Botan on display from December to January—having taken months of care to cultivate. Enjoy the sheltered blossoms and recover from the cold with a steaming bowl of miwa somen. Kneaded in winter, the thin noodles are a seasonal special from the region of Miwa in Nara. Alternatively, you can try narazuke—pickled vegetables made with sake lees—they're served cold but will sharpen your senses and refresh your tastebuds with a unique local flavor.
In neighboring Kyoto, the Takeda Garden for Medicinal Plant Conservation is known for its winter peonies which have long been used for medicinal purposes. With a huge collection of Japanese and Chinese medicinal plants, the garden is a cornucopia of spices, herbs, trees and flowers throughout the year. The local winter-warmer is yudofu—a light soup with soft tofu which goes deliciously with ponzu sauce, while the formal kaiseki set meal is a great way to try seasonal dishes with elegant presentation. Found to the northeast of Kyoto city, the gardens make a perfect combined trip with Mt. Hiei and Enryaku-ji Temple—a striking Tendai Buddhist Monastery.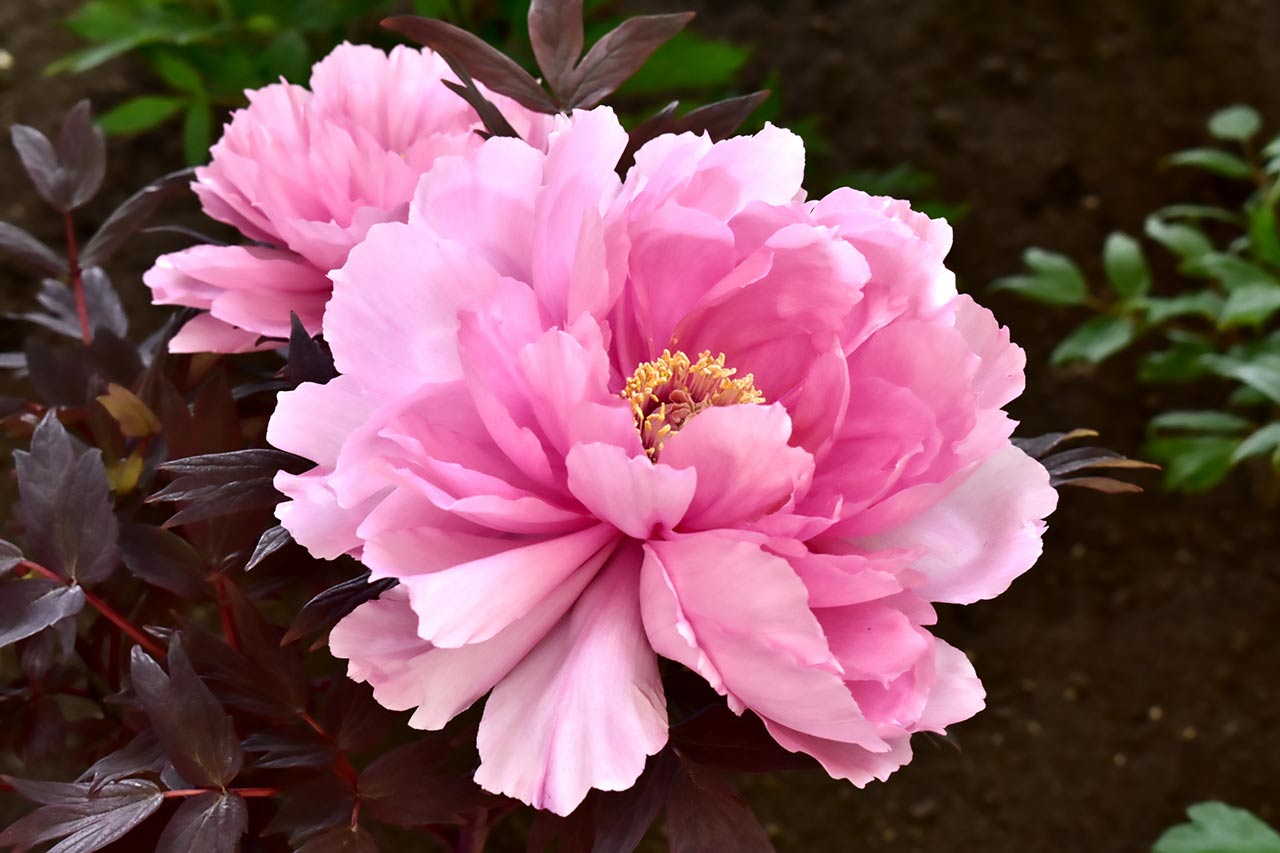 In Tokyo, Ueno Toshogu Shrine hosts a winter peony festival from January to February, when the flowers are in full bloom. As the shrine garden is only open to the public twice a year on seasonal dates, be sure to check ahead as to the specific dates each year. Nestled inside the larger Ueno Park, it's close to plenty of sightseeing spots including Ueno Zoological Gardens, the Tokyo Metropolitan Art Museum and within walking distance of the winding streets of Yanaka. Toshogu was built in 1627 and survived numerous disasters, making it the perfect home for flowers who survive such tough weather conditions. The temple is a prime example of the gongen-zukuri architecture style which was popular in the Edo period—allowing visitors to enjoy the views of winter peonies against a temple backdrop as ancient as the art of their cultivation.
For more details, contact DMC Japan to discuss ideas, locations and rates.
Contact Us