September: Cosmos
August 27, 2021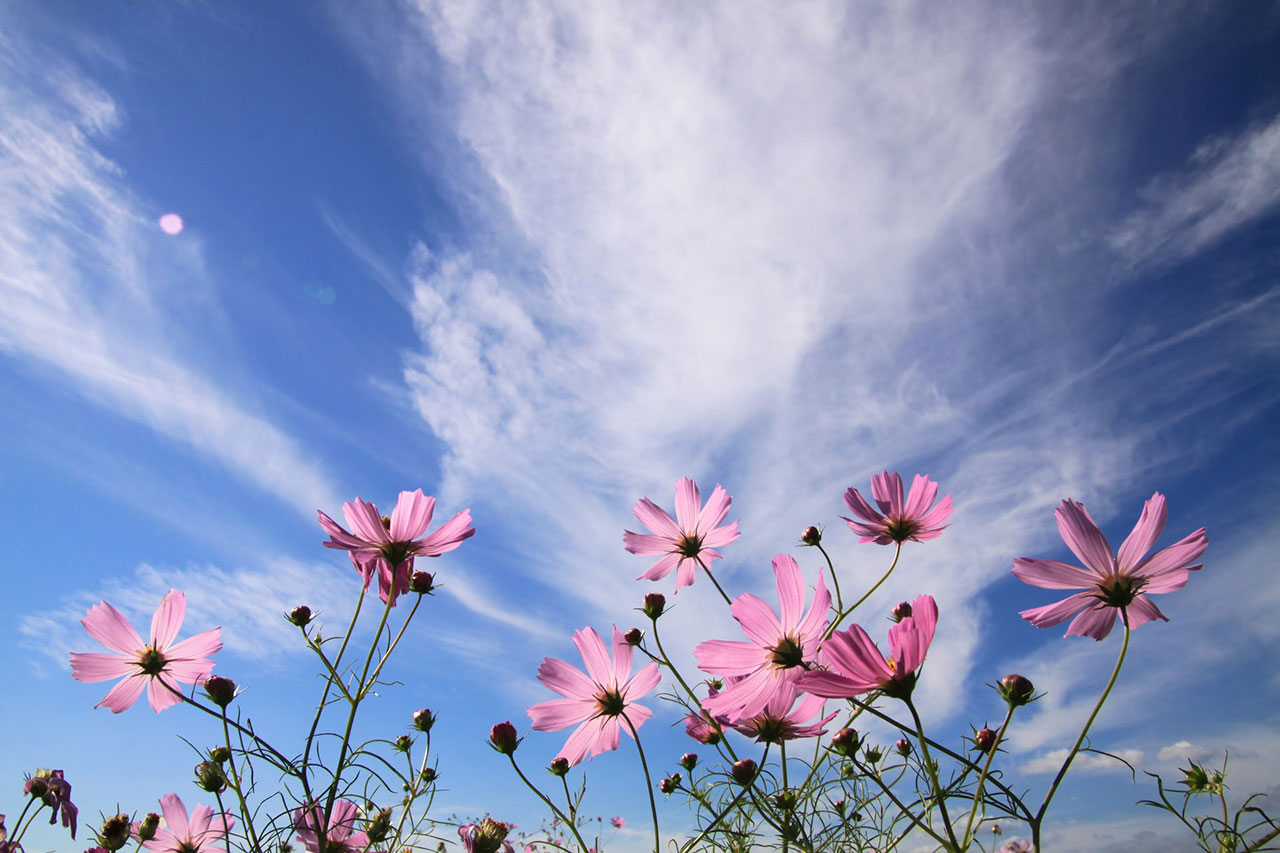 Rather than the expected golden hues of red and orange, cosmos announce the arrival of Autumn in Japan with a bright abundance of pink and white petals. Dotting fields across the country, the delicate flowers are known in Japan as akizakura (autumn's cherry blossom) and are an amazing sight.
The bright and cheerful flowers are actually related to the sunflower family, with long-flowering plants suiting flower displays perfectly. As well as beautiful, they are pollen-heavy and are great for bees, making them an environmentally friendly choice for planting, which is an increasingly important factor today. The flowers were introduced to Japan in the Edo period and have connotations of love and innocence in the Japanese flower language known as hanakotoba.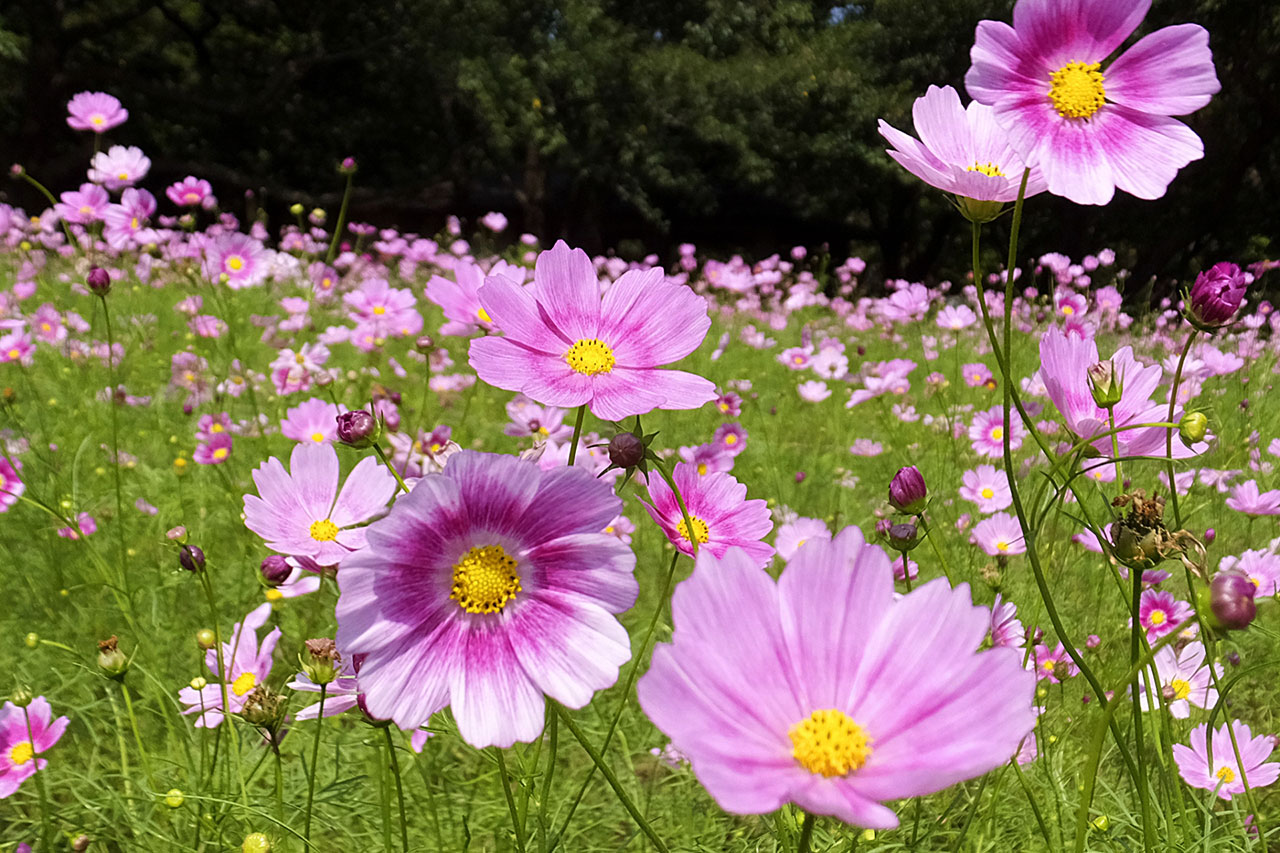 The most common varieties of cosmos are pink and white, known as cosmos bipinnatus while the more unusual kibana or sulphureus cosmos are yellow and orange. As well as a variety of colors, cosmos come in unusual shapes too. Known as Sea Shells, some have fluted petals that resemble shells—often coming in delicate pale colors. One of the most unusual varieties is known as the chocolate cosmos, which actually grow from a tuber, similar to a dahlia. This means the plant is perennial and returns every year, while the more common cosmos varieties are annual and must be planted from seed each year. The chocolate cosmos are loved for their cocoa and vanilla scent as well as their deep chocolate-colored petals, but as they are not naturally grown in Japan, they can be hard to find.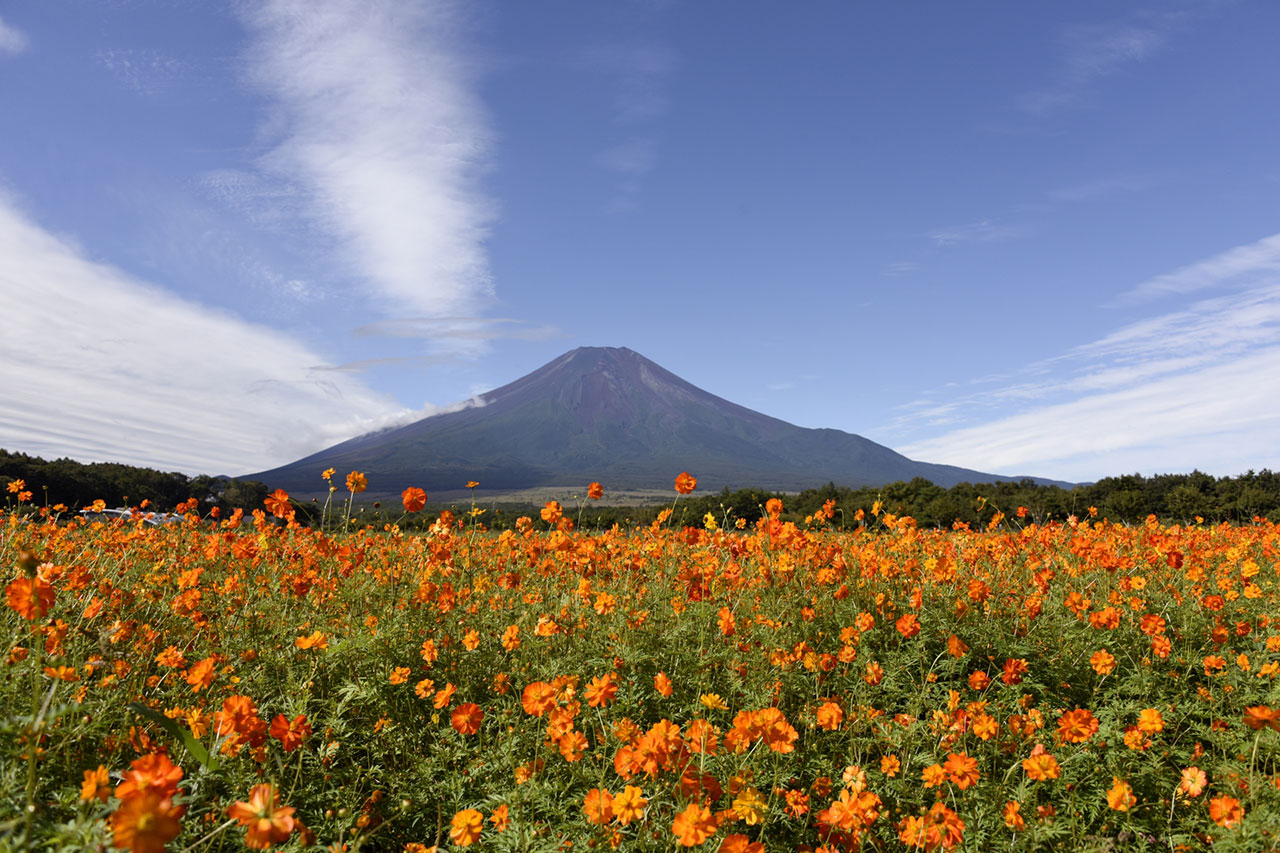 One of the most beautiful spots to enjoy the cosmos is at Yamanakako Hananomiyako Park in Yamanashi. Set against the stunning backdrop of Mt. Fuji, the flowers are a fantastic way to add a seasonal touch to this perennial view. Choosing the unusual yellow and orange variety it does feel more Autumnal, with plant sales and music performances from local school children during the annual festival (held in September). While in Yamanashi, trying the local delicacy of hoto noodles is a must. The flat noodles are stewed in a miso broth with seasonal vegetables and make the perfect pick-me-up as the weather cools. Be sure to visit the striking Chureito Pagoda and tour the rest of Fuji's five lakes, with stunning views of Fuji in endless supply.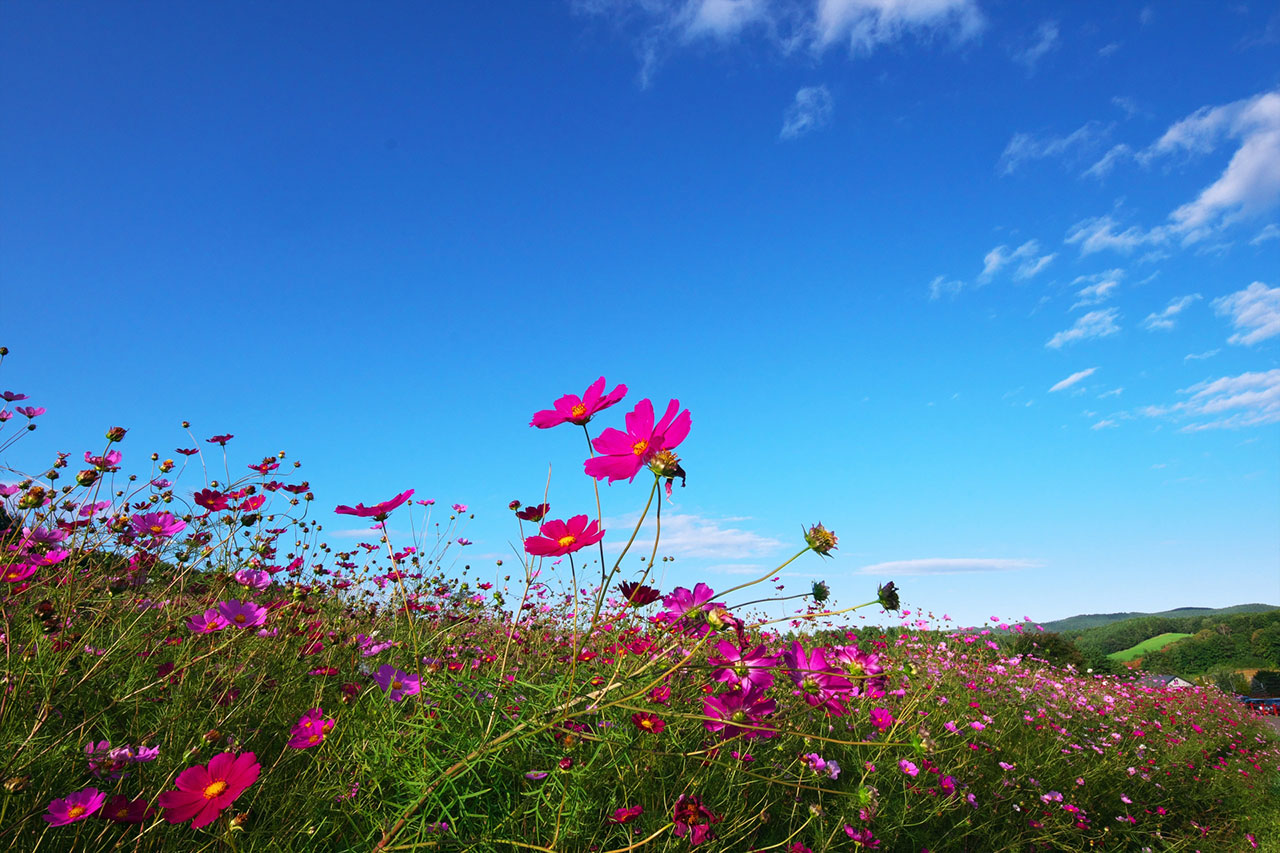 Further north, in Hokkaido, Taiyo-no-Oka Engaru Park is a fabulous cosmos spot. With over 10 million cosmos plants flowering from late August to late September, it's one of the largest displays in Japan. There are 12 cosmos gardens to stroll through, with more than 16 varieties. The park is a popular wedding spot, with a unique wedding bell for newly-wed couples to ring during their ceremony. A feast of the Okhotsk region's Kitami-shio Yakisoba fried noodle will go down a treat while oysters are a seasonal favorite best enjoyed in colder months. In this peaceful rural area, visitors can embrace a wilder side of nature by hiking Mt. Asahidake, known for its incredible autumnal foliage. For a chillier experience, the Abashiri prison is a unique chance to see inside the holding cells of the past.
Closer to Central Tokyo, Showa Kinen Park in Tachikawa has five million cosmos to admire, meaning you don't have to travel far to wander through fields of autumn's cherry blossom.
For more details, contact DMC Japan to discuss ideas, locations and rates.
Contact Us